Check out what Christmas at BBC looks like this December! Stay up to date so you don't miss out!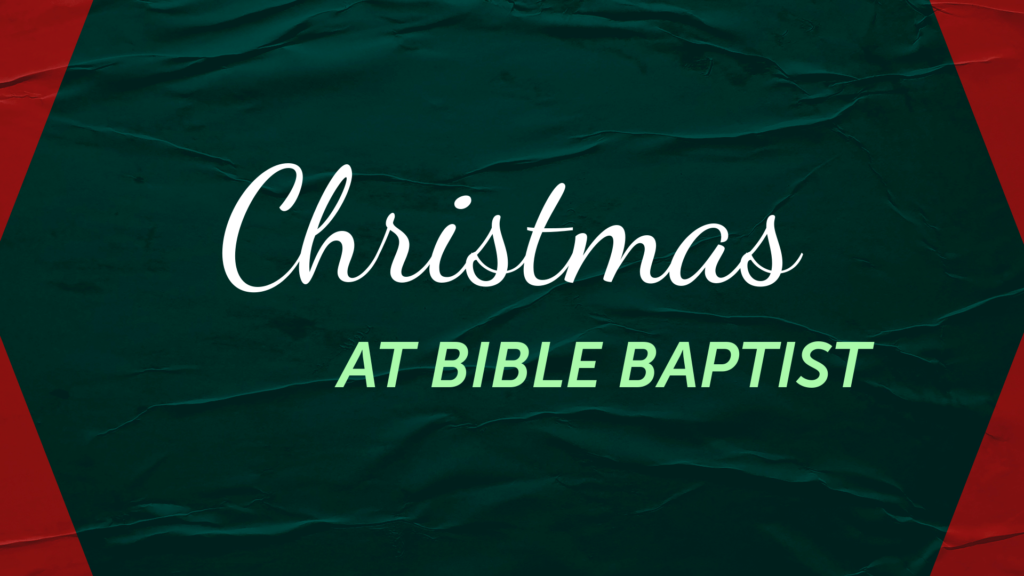 Forever Young Christmas Party (45+): Friday, December 1st, 2023 @ 5:30pm – Bring a dish to share for a potluck dinner. Bring a $15 gender-neutral gift for the Yankee Swap if you want to participate.
Christmas Youth Rally (7th-12th grade): Saturday, December 2nd, 2023 @ 12:00pm – The church is hosting a Christmas youth rally! There will be a pasta lunch, singing, games, and a showing of the Camp Sonlight Christmas Special. Pastor Aaron Malachuk from Mt. Greylock Baptist Church will be speaking.
$15.00 per teen. Dress is casual, and we'll have prizes for an ugly sweater contest!
Ladies Christmas Luncheon: Sunday, December 3rd, 2023 @ 12:00pm – The ladies will meet directly following the morning service for a Christmas party! There will be soup, salad, and sandwiches for lunch. Activities include an ornament exchange, cookie exchange, Secret Sister reveal, and Secret Sister sign-up for the upcoming year!
Youth Group Christmas Party (7th-12th grade): Sunday, December 17th, 2023 @ 5:00pm – The youth group will meet early for a Christmas party! Bring your Bible, an appetite, and a $5.00 Yankee Swap gift.
Youth Choir Christmas Program: Sunday, December 24th, 2023 @ 10:00am – In lieu of a our normal Sunday morning worship service, the children's choir will be performing a Christmas program.
Christmas Eve Service: Sunday, December 24th, 2023 @ 5:30pm – Join us for our annual Christmas Eve service. We gather to remember Christ's birth through scripture reading, Christmas carols, special music, and a short message.